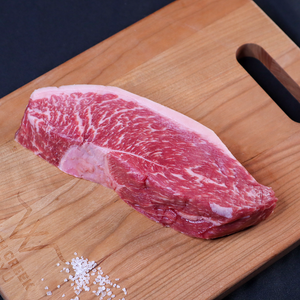 If you like the Picanha Roast, you will love our Coulotte Steak. The Coulotte Steak is the classic Brazillian, Pichanha Roast sliced into steaks. This cut features a portion of the fat cap attached and will "wow" you with the rich, savory Wagyu flavor.
Average weight: 10 oz.
Ships Fresh or Frozen
Locally raised and processed 
Ships in eco-friendly insulation
Gold Label: Buttery with a hint of traditional beefy flavor. Intramuscular fat percentage of 16-24%.
Platinum Label: Rich, buttery, and tender. Intramuscular fat percentage of 25%+.