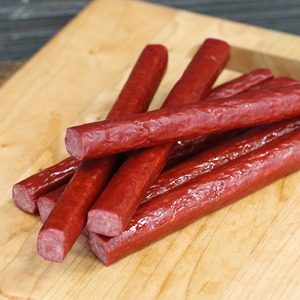 For sensational snacking, look no further. Our fully-cooked snack sticks are sure to hit the spot. Try all 4 of our recipes.
Original: Classic beef stick flavor.
Honey BBQ: Sweet and tangy, just like our favorite sauces from Kansas City.

Jalapeno & Cheese: Hint of a jalapeno kick blended with rich cheddar. Allergen: milk.
Ghost Pepper Cheese: Slow-building heat that can sneak up on you. Boo! Allergen: milk.
Ingredients: Wagyu beef, water, salt, corn syrup solids, spices, garlic, mustard, monosodium glutamate, dextrose, sodium erythorbate (0.67%), sodium nitrite.
Fully cooked and ready to eat. 
8 oz. package contains 5 sticks
Keep refrigerated.