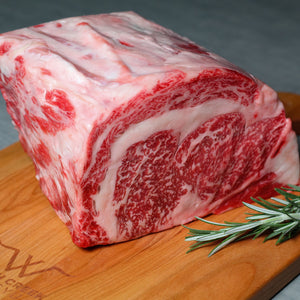 The king of holiday feasts. Prime rib has been a wintertime favorite in America for generations, and now is your chance to take it to the next level. With unmatched marbling and tenderness, you can create a holiday meal the family will talk about for years. Prime rib can also be used to slice your own ribeye steaks at your preferred thickness. Our prime rib roasts are bone-out unless specified otherwise.
Your choice of fresh or frozen
Locally raised and processed 
Ships in eco-friendly insulation
Silver Label: Traditional beefy flavor with elevated tenderness. Intramuscular fat percentage of 10-15%.
Gold Label: Hints of buttery flavor to go with exceptional tenderness. Intramuscular fat percentage of 16-24%.
Platinum Label: Maximum richness, tenderness, and buttery flavor create a world-class steak experience. Intramuscular fat percentage of 25%+.
Learn more about our labels here.