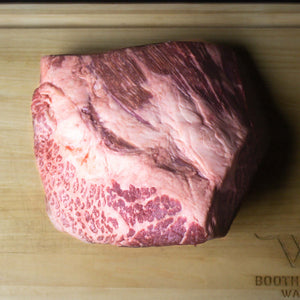 Burnt ends hold a special place in our heart, as they were created just 2 hours away in Kansas City. Today they're one of the most popular BBQ dishes in the country, and the best burnt ends come from the point end of the brisket.
Due to the higher marbling in these briskets, we recommend ordering a larger size than you think you'll need, since there will be more shrinkage.
Your choice of fresh or frozen
Locally raised and processed 
Ships in eco-friendly insulation
Silver Label: Traditional beefy flavor with elevated tenderness. Intramuscular fat percentage of 10-15%.
Gold Label: Hints of buttery flavor to go with exceptional tenderness. Intramuscular fat percentage of 16-24%.
Platinum Label: Maximum richness, tenderness, and buttery flavor create a world-class steak experience. Intramuscular fat percentage of 25%+.
Learn more about our labels here.